Voltage monitoring relays in 3 Phase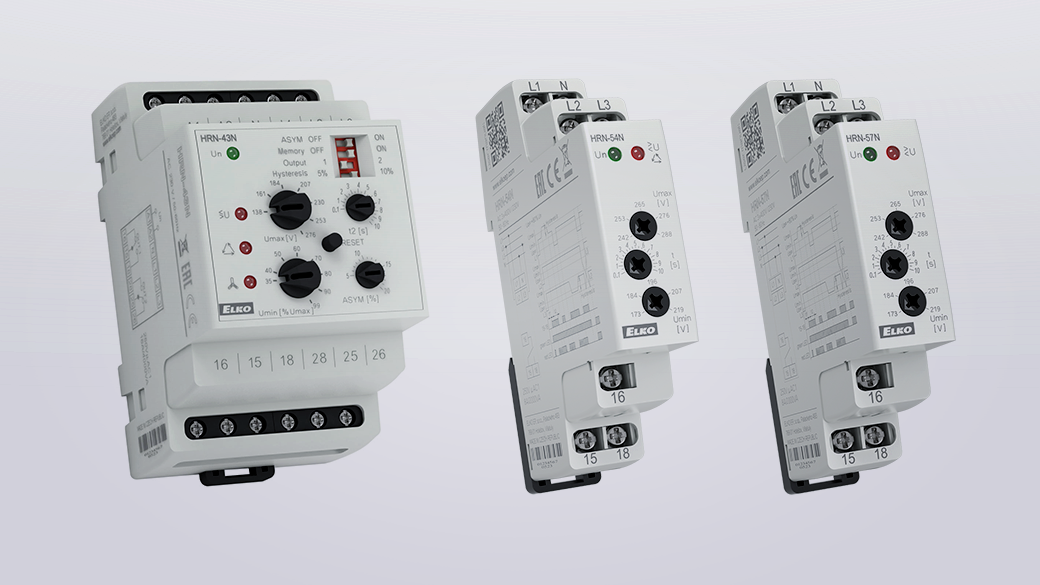 DESCRIPTION
It serves to monitor voltage, phase failure and sequence in switchboards, protection of devices in 3-phase mains.
It is possible to set upper and lower level of monitoring voltage.
Adjustable time delay eliminates short voltage peaks and failures in the main.
Supplied from monitored voltage.
Faulty state is indicated by red LED and by opening of output relay contact.
Output contact 1 or 2 x changeover / SPDT 8 A / 250 V AC1.
In case supply voltage falls below 60 %Un (UOFF lower level) relay immediately opens without delay.
HRN-54: supply from all phases which means that relay is functional also in case when one phase is faulty.
HRN-57N, 54N, 43N,: supply L1, L2, L3-N, means that relay monitors also failure of neutral wire.
1 or 3 MODULE, DIN rail mounting.
TECHNICAL PARAMETERS
Phase failure: Yes
Phase sequence: Yes / x
Overvoltage: Yes
Undervoltage: Yes
Asymmetry: Yes / x
Monitored range:  AC 3 x 172-287 V 
Supply voltage: 1 or 2 x CO, 8 A
Housing: 1 or 3 -MODULE
Power supply: from monitored voltage or External